Jessica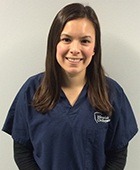 Jessica
Jessica is the Clinical Assistant at our facility.
Jessica graduated from Lewis University as a Certified Athletic Trainer and completed her internship with the Windy City Thunderbolts. Jessica has volunteered as a medical professional for the Chicago Marathon, has worked as an athletic trainer with athletes of all ages, and has been with the team since 2015. Jessica remains an active member of the National Athletic Training Association.
Jessica assists patients in clinic, provides pre- and post-operative care and support, and can assist with FMLA and disability paperwork.