Cassie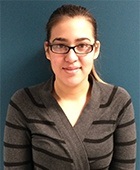 Cassie
Cassie is the Surgery Scheduler at our facility.
Cassie has been with Hinsdale Orthopaedics since 2013, and has been on the team since 2015.
Cassie schedules surgical appointments and assists patients in arranging their pre-operative and post-operative appointments. Cassie acts as a liaison between the hospital and our patients and can assist with answering insurance questions.